Ice cave wedding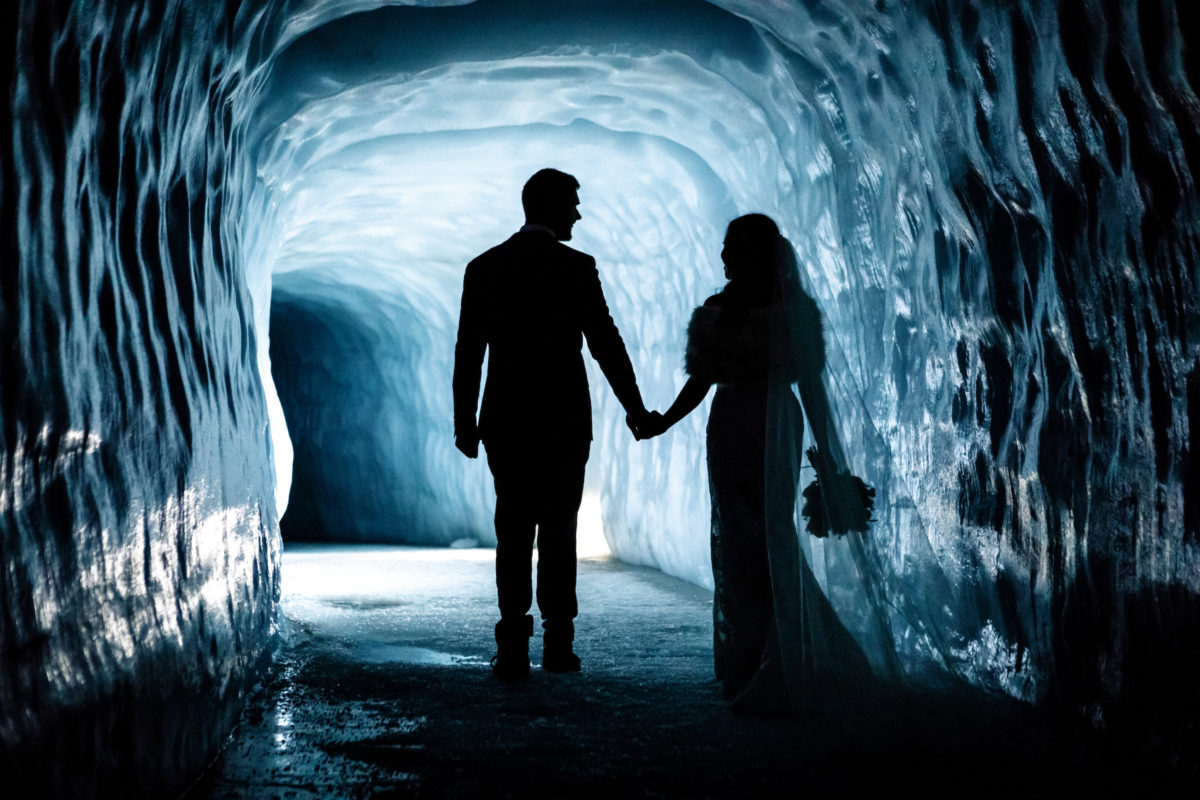 Ice cave wedding in Iceland
Miranda and Ari got married in Iceland last March in an Ice cave in Langjökull Iceland! They contacted us first in December 2016 and asked for help to plan their wedding in Iceland. I was thrilled with how adventures they were and had a great time planning everything with them. We gave them a different suggestion and in the end, they decided to go with the Ice cave option! We did not only help them plan their wedding but also with their travel plan and whole stay in Iceland. Miranda and Ari traveled with their guests to different places where they did activities and had fun with their guests. Seeing the Northern lights was very important to them and therefore we choose their accommodation so they would get a greater chance of seeing them.
We asked Miranda and Ari a few questions regarding their wedding in Iceland.
Why would you recommend Iceland as a destination for weddings?
We have traveled around the world quite a bit but Iceland was like nothing we had experienced before. Even prior to the wedding day we had done a lot of research, followed a number of tourism pages on Instagram and we had immersed ourselves in it so much that we were worried that the real Iceland would be a let down after all the amazing photos we had seen. But even from the first moment, we looked out the tiny plane window it was incredible! Such a rugged untouched landscape that you feel like you're actually on another planet altogether. We spent 9 days traveling around Iceland and I couldn't get enough of just staring out the bus window at the ever-changing landscape. Back to the question, everyone we spoke to asked us "why Iceland???" – especially given that we're from sunny Australia – and our response was always "why not!". Iceland provided us the exact adventure we were looking for to start our married life together. As all of our guests said, this is a wedding that will be remembered forever. We are already planning on going back to Iceland, in summer this time!
What was the best thing about your trip to Iceland?
Of course the landscape, but also the people. Everyone we met was so warm and friendly. Luxwedding helped us with not only our wedding but the 9-day tour for our whole group of 23 people. Everything about Iceland and the tour exceeded our expectations.
We are already planning on going back to Iceland
Do you have a favorite place that you visited?
We can't go past our wedding day and location – driving on top of Langjokull glacier in the super jeep and arriving at the ice cave was a great experience. Hotel Husafell was also beautiful and incredibly accommodating to our wedding party. The other unexpected highlight for us was actually a crater next to Kirkjufellsfoss, it seemed insignificant compared to the other main attractions, but our group had so much fun battling the blizzard weather and high winds on top of the crater as we looked out to see the never-ending black and white landscape – it was otherworldly!
Was getting married in Iceland somehow different from what you expected?
It
was better! A standard wedding with hundreds of guests was never what we wanted. We wanted something that represented us; that was full of adventure, excitement, and the unknown. We also wanted to be able to share this experience with our nearest and dearest. Iceland proved to be the perfect combination of this. The great thing was that we were able to keep the whole wedding day events a secret from our guests, even throughout the whole day we kept surprising them with the next activity – thank you to everyone involved for keeping their lips sealed! The best comment we had was from my mum who, after the whole surprise,
said
: "This is so Miranda and Ari". 
exceeded our expectations
Do you have any planning tips for those who would like to get married in Iceland?
Call/email Vigdis! We contacted Vigdis 1.5 years before our wedding. The brief was: we want to get married in Iceland in March/April 2018, we want to invite a small group of our closest family and friends, we want to see the northern lights, we want the wedding to be an adventure, we want to see as much of Iceland in the shortest time possible. She then worked so hard for the next 1.5 years on making our dreams come true. So, do a bit a research and make sure you have a list of the key things that are most important to you, but Luxwedding will honestly walk you through everything and make sure your dreams become reality.
dreams become reality, Ice cave wedding in Iceland
Why would you say having a planner is important?
We ourselves had never been to Iceland so it was really important to us to use locals who know what Iceland has to offer, this included our photographer, videographer, and officiant. We were apprehensive at the start given that we have to put a lot of trust and money prior to the wedding and would only meet everyone when our plane landed in Iceland. These fears were quickly put to rest when we saw Vigdis' smile, she had so kindly come along to welcome us at the airport.
I thought I was organized, but when it came to the wedding, Vigdis was always the one to follow up with me. I don't think I've sent as many emails to someone as I did to Vigdis. It was great to have someone on the ground in Iceland to use their connections, to meet all the providers, to organize all the details that you wouldn't have even thought of, and even plan our whole 9 day Iceland tour! I cannot speak more highly of Vigdis, she personalized everything for us and truly went above and beyond, she became more than just our wedding planner, she became a friend.
truly went above and beyond
What would you say is a must-do in Iceland?
Do everything you possibly can! Try and see the northern lights (staying up all night is worth it, no matter how exhausted you are). We also couldn't get enough of the glaciers that we went as far as getting married in one, having snow fights on one, snowmobiling on top of one, hiking on one, and just staring at all of them from a distance. Travel around Iceland as much as possible, see the sights, take it all in – because it will change in the blink of an eye. It's a country like no other and we hope everyone gets to experience it at least once in their lifetime.!
LET´S PLAN YOUR WEDDING TOGETHER!