Volcano wedding in Iceland
It has been a busy summer and fall season for us at Luxwedding. With our clients, we have enjoyed so many memorable moments this year. Over the winter we will share some of those great moments with you! If you're looking for a unique and unforgettable destination for your wedding, look no further than Iceland. With its stunning landscapes, rich cultural heritage, and endless opportunities for adventure, this country is sure to make your special day one to remember.
Volcano wedding
Adventure wedding in Iceland! Is that for you? For the last three years, we have had three volcanic eruptions on the Reykjanes Penisula at Mt. Fagradalsfjall. Those three were called "tourist eruptions" meaning that under certain circumstances and with precaution it was safe to enjoy Mother Nature's epic show. This is exactly what we did with one of our happy couples in July 2021 and we loved every minute of it. Enjoy this amazing video shot by our close friends at Rec Media.
Iceland's Nature is full of surprises and at the moment it is constantly reminding us. There is seismic activity ongoing at Reykjanes Penisula, with chances of a volcanic eruption. This time there is more threat to infrastructure and residents. As a precautionary action, from the 10th of November, the town of Grindavík has been evacuated to ensure the safety of its residents. Along with a temporary closure of the Blue Lagoon. Icelandic authorities, scientists, and local communities are prepared for this kind of event. We hope that everything will go well and we will keep you informed about the situation. 
Photo by Bragi Thor – Iceland wedding photo https://www.icelandweddingphoto.com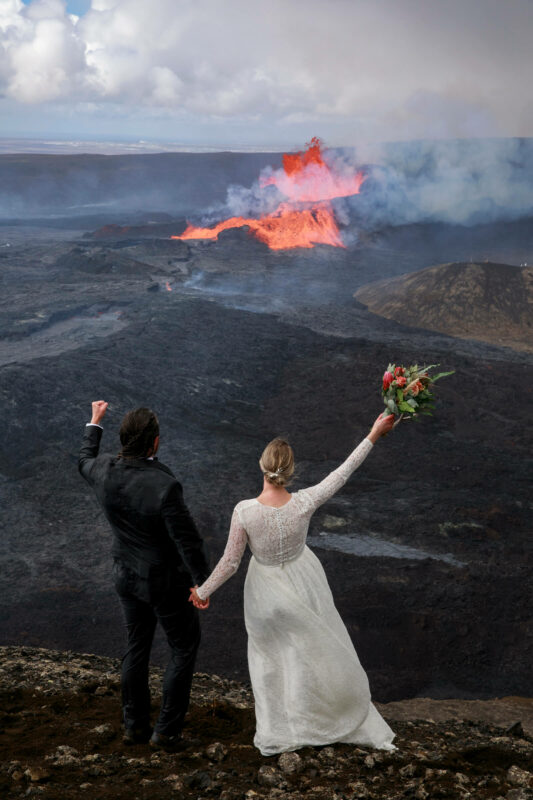 LET´S PLAN YOUR WEDDING TOGETHER!