Lava tunnel wedding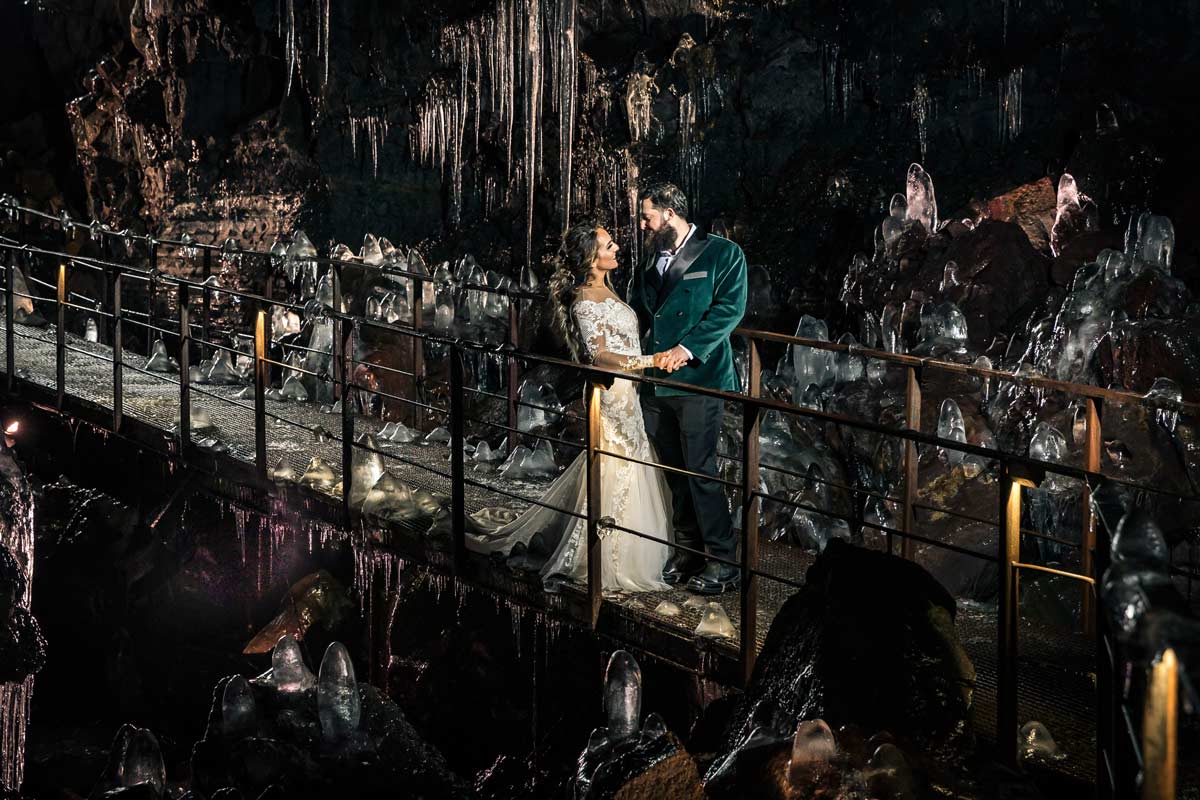 Lava tunnel wedding in Iceland
Josef and Darrah decided to have their ceremony inside a lava tunnel in Iceland, formed in a volcanic eruption that occurred about 5200 years ago. 
Because it was still 
wintertime, there were spectacular ice sculptures inside the entrance of the cave.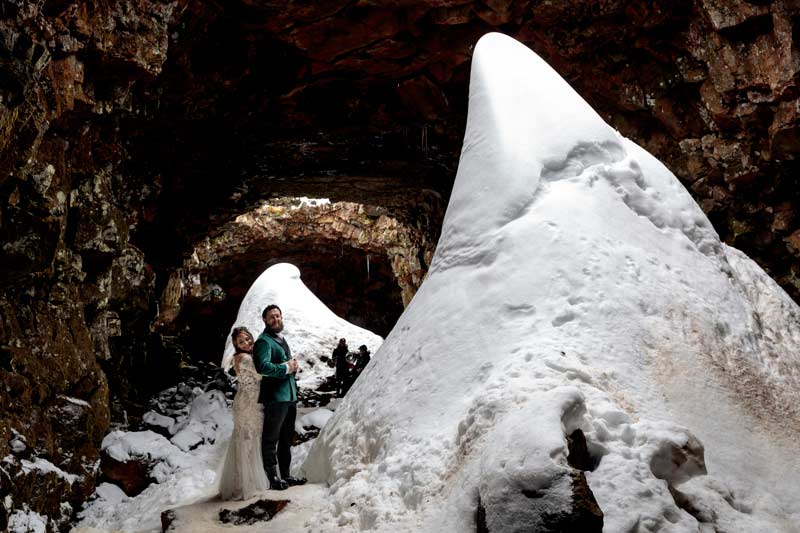 We asked Josef and Darrah some questions to get a better idea of how they enjoyed their wedding and trip to Iceland
Why would you recommend Iceland as a destination for weddings?
Getting married is all about the memories you make with the people that matter most. Most of the time, people don't remember their big day because it's overshadowed by stress and a short reception. Bringing our closest friends and family to Iceland to watch us get married was the most memorable experience of our lives. We spent an entire weekend together and were able to explore so many beautiful sites after our wedding ceremony. Having our wedding in Iceland was intimate, GORGEOUS, extremely detail-oriented and because of that, our photos and memories do an amazing job of showcasing our relationship with each other and our loved ones. Additionally, all in all, it was very affordable and we were able to still have a large wedding reception back in the states. 
"Every single vendor that she recommended was perfect"
What was the best thing about your trip to Iceland?
The landscape and the culture are so different than what we are used to, and there was absolutely incredible to share that with so many important people. I couldn't choose a single moment.. but we were fortunate that we were able to explore so much in such a short period of time. It made the trip feel longer and more substantial.
Do you have a favorite place that you visited?
We got married in
Raufarhólshellir Lava Cave,
so I have to say that was the most beautiful scene. Second,
Krísuvíkurbjarg cliffs. Bragi, our photographer, used his drone to get the most breathtaking pictures ever! 
Was getting married in Iceland somehow different from what you expected?
I wasn't really sure what to expect. I was confident though, we put so much planning into the entire trip. But I was not expecting to be blown away at every moment. I didn't realize how wonderful the people would be that were helping us, and how important it was for them to make our trip so special.   
"
the most breathtaking pictures ever!

"
Do you have any planning tips for those who would like to get married in Iceland?
You need to go with a wedding planner. It's not a big investment and it is definitely worth it. I would recommend bringing no more than 25 people, to keep it intimate. Make a small trip of it, you don't need more than 3-4 days. Take them outside of the city so that they can explore with you. Spend at least a couple of days sightseeing, and be prepared for the weather. My other tip would be to embrace the weather. Because we did that, everything felt so natural! We were also very lucky to have very good weather.
Why would you say having a planner is important?
If you are not familiar with Iceland, I would almost never recommend getting married there without a planner. Luxwedding was affordable and Vigdis was hands-down the easiest to work with. She was responsive and made sure that every single detail was nailed down to the t. Without her, we wouldn't have been able to do half of the things we wanted to do. Also, if you're from out of the country, the paperwork could get complicated. 
  "she had a ton of experience

"

Additionally, it was wonderful to have her perspective because she had a ton of experience working with most of the vendors that we ended up working with. Through Vigdis, we hired a bus driver for the weekend, along with a tour guide. We chose a wonderful place to stay, a local family-owned dairy farm hotel. The staff was absolutely incredible. Vigdis took care of every detail for us, including snacks for the day of the wedding, champagne to toast, our flowers, the cake, and helped us reserve the location for our ceremony in addition to recommending the photographer and videographer for the ceremony. Every single vendor that she recommended was perfect.
  "the staff was absolutely incredible

"

What would you say is a must do in Iceland?

People say that the Blue Lagoon is overrated because it's a tourist trap. I disagree, that was the perfect way for us to end our trip. My recommendation would be to end your trip at the Blue Lagoon, right before you make your way to the airport.

Are you interested in a Lava tunnel wedding in Iceland?
LET´S PLAN YOUR WEDDING TOGETHER!