Snæfellsnes Peninsula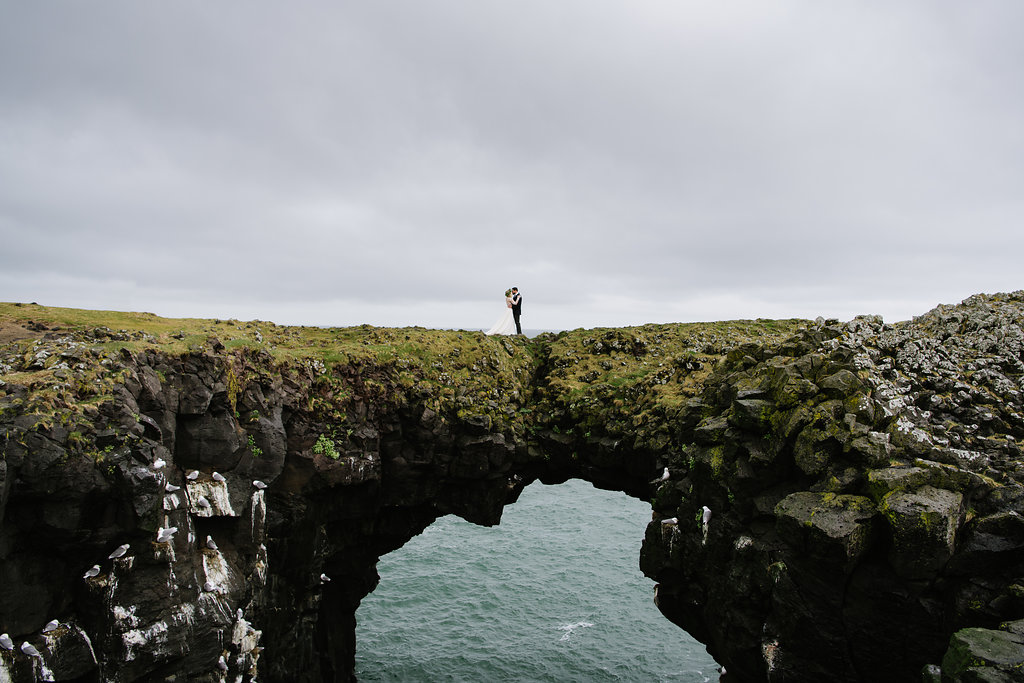 Snæfellsnes Peninsula Iceland
Phil and Brianne got married at Búðir on the Snæfellsnes Peninsula Iceland.
On their big day with started with taking photos of their first look at Hellnar. The ceremony was conducted by Páll Ágúst in the little black church at Búðir. After the ceremony, we went to a few different locations for their photoshoot including Djúpalónssandur black sand beach. In the evening they had dinner with their family and friends at Hótel Búðir who had all traveled a long way to come to Iceland for the wedding. We had a rainy day but still, Jared and Andrew manage to take these great photos and video of this beautiful wedding couple. 
Photo by Jared Beasley https://jaredbeasley.net
Video by Andrew Didway 
We asked Phil and Brianne a few questions regarding their wedding in Iceland.
Why would you recommend Iceland as a destination for weddings?
The scenery. It is absolutely breathtaking. Also, depending on the airline carrier, you can extend your layover there (which is what we did) and either stay there or go somewhere else for your honeymoon!
What was the best thing about your trip to Iceland?
We got married!
 Do you have a favorite place that you visited?
We got to walk behind a waterfall, which was so cool. The drive to places (especially through the Þingvellir national park) was amazing!
Was getting married in Iceland somehow different from what you expected?
Yes, it went beyond what we had expected! I don't think anyone could have prepared us for the raw beauty of this country.
Do you have any planning tips for those who would like to get married in Iceland?
Get everything done before coming. I thought I would have time to make some finishing touches to things and I really didn't as there was too much to see!  Make a list of everything you need to bring and a separate list of what items need to go to the reception. We packed everything, but forgot to pull some items out of our luggage (like a Polaroid camera) for the reception and didn't realize it until the next day!
I read that umbrellas were pointless in Iceland because of the wind. However, the wind wasn't so bad at first and thankfully someone brought one with them to help combat the mist in-between photos!
it went beyond what we had expected
Why would you say having a planner is important?
We started off trying to do it by ourselves. However, making contact with all the vendors (especially with the time difference) was challenging. When you are trying to lock in dates and get answers to your questions – you can't really afford to be playing phone tag (or email tag) for weeks – which was what was happening to us. It was so nice to have one person to send all your questions to. Vigdis also helped sort some of the timelines out and offered suggestions. Our first look (which was so magical) was actually a spot she recommended!
What would you say is a must-do in Iceland?
I don't think you can go wrong with what you do. The landscape is just absolutely breathtaking. I was so happy we rented a car and just drove around.  We are already planning another trip!
LET´S PLAN YOUR WEDDING TOGETHER!