Secret waterfall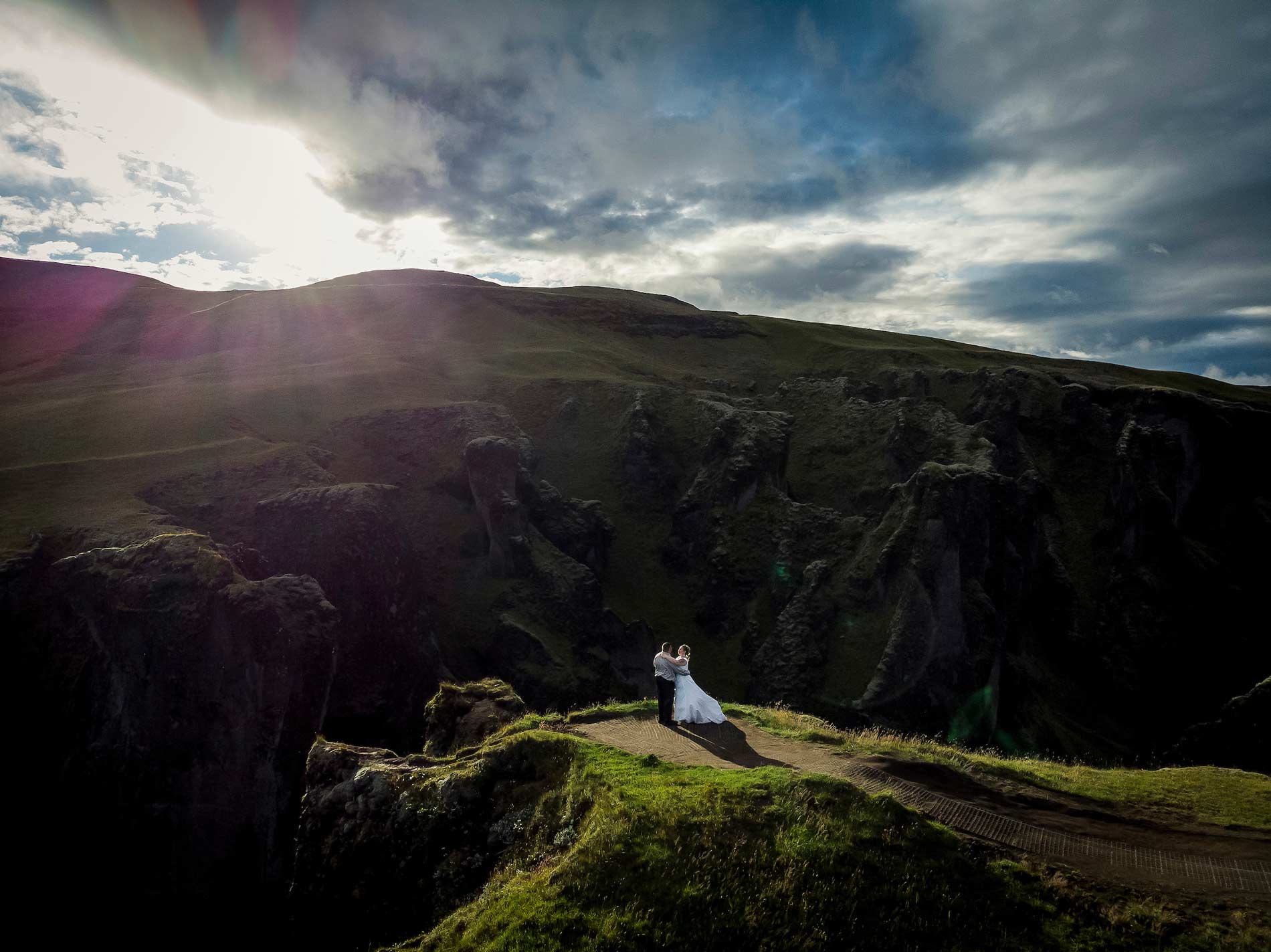 Rachael and Mark got married last summer by the Secret Waterfall.
What a beautiful day by the secret waterfall. Rachael and Mark explored many great locations to capture their wedding photos and video.
Photos by Bragi Thor – Iceland Wedding Photo https://www.icelandweddingphoto.com 
Video by the team of Sufo Films http://www.sufofilms.com/
The secret waterfall
We asked Rachael and Mark a few questions about their trip to Iceland to get a better idea of their experience in Iceland:
Why would you recommend Iceland as a destination for weddings?
We would recommend Iceland as a destination for weddings because it is the most beautiful place we have ever been. We have both traveled the world and have never wanted to return back to a country as badly as we want to come back to Iceland. I would say, wholeheartedly, it is the most beautiful place in the world. The people have beautiful souls and everyone is so kind to one another. I do not remember tour guides from my other travels, but there are two tour guides I will remember for a lifetime from our time in Iceland.  We are planning on returning for our ten year anniversary. We hope to be able to return back to the same place we were married and basically redo our entire wedding day.
What was the best thing about your trip to Iceland?
I don't even know how to answer this question because every experience we had was incredible. My husband and I have a spiritual connection to nature and Iceland is THE place to experience the purest nature. We drank from a stream next the to place we were married. All the officiant had to do was dip our drinking horn in the running water and it was perfectly fine to drink. And it tasted incredible. All of the food we experienced was wonderful. My husband STILL talks about the meat soup we had in Vík. 
"the most beautiful place we have ever been"
Do you have a favourite place that you visited?
I would say Fjaðrárgljúfur was one of my favorite places and I would have loved to spend more time there just taking in the gorgeous scenery. The waterfall we were married at was probably my absolute favorite place to visit.
Was getting married in Iceland somehow different from what you expected?
It was more than I ever could have hoped for. My experience from Luxwedding – Vidís was incredible for us that day, to Bragi as the photographer to the videographers from Sufo films, to the food, the day… It was better than perfect.
"It was better than pefect"
Do you have any planning tips for those who would like to get married in Iceland?
I would say be prepared to spend more money than you anticipated because you're doing something that is once in a lifetime for most couples. If you want an amazing experience, it is going to cost more than you may have estimated. I will say that it is absolutely worth the money spent. Also, make sure you prioritize what is important to you – are photos important? Key sites? Food? The only thing I slightly regret is spending too much time a
t 
Reynisfjara and this regret isn't even anything profound – it's so minor I didn't even think about it until just now actually. I love waterfalls and mountains more than beaches and because we were behind in the day, we had to drop one of our stops, which was supposed to be 
Seljalandsfoss because the weather turned on us and we lost daylight. So, make sure you prioritize what is absolutely important to you and don't be afraid to change the day – Vigdís is amazing and will find a way to make whatever you want to happen actually happen. 
"once in a lifetime"
What would you say is a must do in Iceland?
If you're a Game of Thrones fan, you need to the GoT tour with Raf (his name is Hrafn) because he is awesome. The absolutely best tour guide I have ever had anywhere in the world.. This was an incredible way to spend the day. Our wedding took us to the South coast, so we didn't book an official tour for that, but the area is also a must see. We did not get a chance to go north or east, so that is something I would like to do when we return.                                                                                                                                                                                               Do you want to know more about the secret waterfall?

Please contact us for more information on weddings in Iceland.
We look forward to hearing from you!
LET´S PLAN YOUR WEDDING TOGETHER!