South Iceland – Waterfall wedding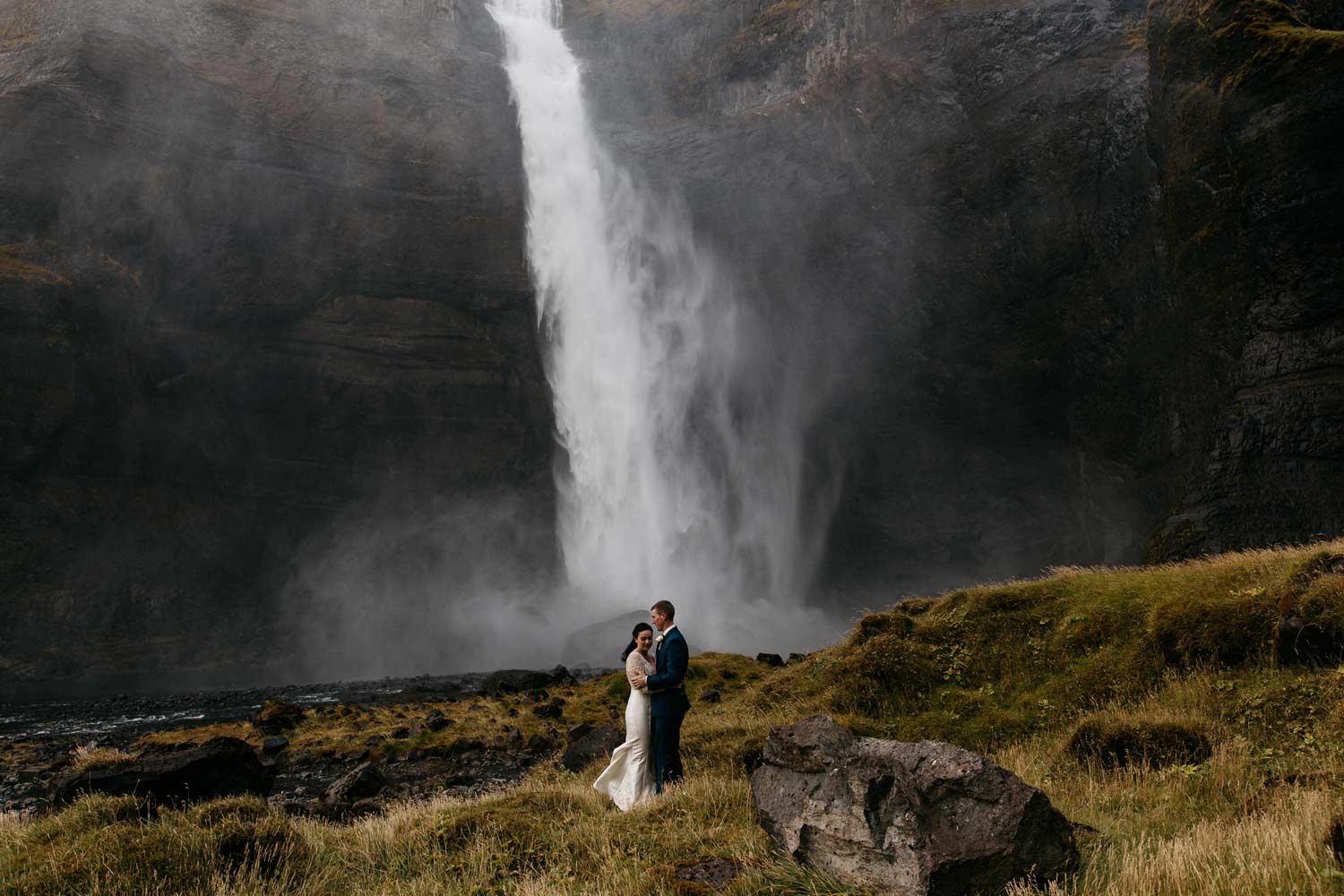 Waterfall wedding in Iceland
Elena and Jonathan got married in the fall near the highlands of Iceland.
Waterfall wedding in Iceland is a great choice for your wedding! But which waterfall should you choose! Elena and Jonathan wanted to add some adventure to their wedding day and we tried our best to make their wedding day as they wished for! The ceremony was placed in a beautiful valley with waterfalls and after the ceremony, we went to take photos at the magnificent waterfall Háifoss. We had to hike down to the waterfall making the trip so special and fun with them.
Styrmir and Heiðdís did a great job with their photos leaving them with awesome memories from their big day.
We asked Elena and Jonathan some questions to get a better idea of how they enjoyed their wedding and trip to Iceland.
Why would you recommend Iceland as a destination for weddings?
We cannot recommend Iceland as a wedding destination enough! It's such a magical country with some of the nicest people we've met, such delicious food, and the most stunning landscape. There are so many options for wedding locations. There are endless waterfalls, quaint churches, magnificent cliffs, wide open plains, and beautiful beaches. Iceland offers a fairytale like setting for what will surely be a lasting memory!
What was the best thing about your trip to Iceland?
Our whole trip was nothing short of amazing, but our wedding day was easily the best for obvious reasons. We were in such high spirits the whole day, laughing and smiling and taking in the beauty around us. It was just the two of us, so the whole experience was very intimate and romantic, allowing us to really focus on us, on our 11 years together, and our union as husband and wife on that day. We also saw the Northern Lights on our wedding night as we walked back to our hotel after a delicious dinner. We couldn't have asked for a more perfect wedding day!
Do you have a favorite place that you visited?
t's hard to choose just one place! Gjáin and Háifoss are absolutely stunning and were such an amazing setting for our wedding and pictures. The hike down to 
Háifoss was tough but so very worth it for how grand and magnificent the waterfall is up close! 
Seljalandsfoss and Gljúfrabúi were two other very cool waterfalls to see, and they're right next to each other! Reynisfjara Beach was beautiful as well! Local swimming pools were a great way to relax too.
"Our whole trip was nothing short of amazing"
Was getting married in Iceland somehow different from what you expected?
We had high expectations to begin with for our wedding in Iceland, but it far exceeded those expectations! You see these stunning pictures of the country and then to actually see it all in person is such a wonderful experience. Our wedding day ended up being colder and windier than we had anticipated, but we were getting married! Nothing could have spoiled our moods that day. We were so overcome with joy to be getting married and in awe of our surroundings. We laughed through the cold and wind, quickly putting on big, warm jackets between pictures, which just adds to the great story we get to tell for the rest of our lives.
"it was an experience that we will never forget"
Do you have any planning tips for those who would like to get married in Iceland?
We don't think our wedding would have been nearly as successful if we didn't have 
Vigdís planning and coordinating nearly everything for us! Having a planner who is in Iceland is essential, in our opinion, to the planning process. They obviously know the language, plus all the different vendor options, legal requirements, cultural insight, and general recommendations for your trip to Iceland. We also recommend understanding the ever-changing weather in Iceland. The winds there are no joke, and it can go from sunshine to rain to sunshine again in five minutes, but that's the fun of it! Knowing what to expect with the weather will help you enjoy your special day.
What would you say is a must do in Iceland?
Visiting Iceland, in general, is a must do! We are already talking about going back in the future to see everything we missed on our first trip. You can close your eyes and spin in a circle and anywhere that you stop is going to be an amazing sight. The day after our wedding, we rented a camper and drove around the country. The experience of driving around to different sites, cooking dinners in our camper, and hopping from campsite to campsite was so much fun! You can go at your own pace and see so much of what Iceland has to offer. Seeing the Northern Lights in Iceland can be hard to do because it relies heavily on luck and the perfect conditions, but it was an experience that we will never forget! We were lucky enough to see the lights in the middle of downtown Reykjavik on our wedding night and again at our campsite in Ólafsvík. The dancing green and purple lights in the sky were one of the most beautiful things we've ever seen! We highly recommend following websites that track and forecast the lights to better the chances of catching them. Whether you see the Northern Lights or not, Iceland will not disappoint you!
Are you ready to plan your waterfall wedding in Iceland!
Please
contact
us for more information on weddings in Iceland.
We look forward to hearing from you!
LET´S PLAN YOUR WEDDING TOGETHER!