Þórsmörk wedding Iceland
Kristen and Christopher got married in Þórsmörk valley on a beautiful fall day. Þórsmörk (Thorsmork) is a mountain ridge in Iceland named after the Norse god Þór (Thor). Situated in the south of Iceland. Truly a spectacular place surrounded by three glaciers Tindfjallajökull, Eyjafjallajökull and Mýrdalsjökull. The river Krossá winds between the mountains through the valley. (Do not attempt to cross the river Krossá, super-jeep and local knowledge of the river is a must).  The valley is covered with green vegetation of moss, fern, birchwood and other small shrubs.
Photos by Bragi Thor – Iceland wedding photo https://www.icelandweddingphoto.com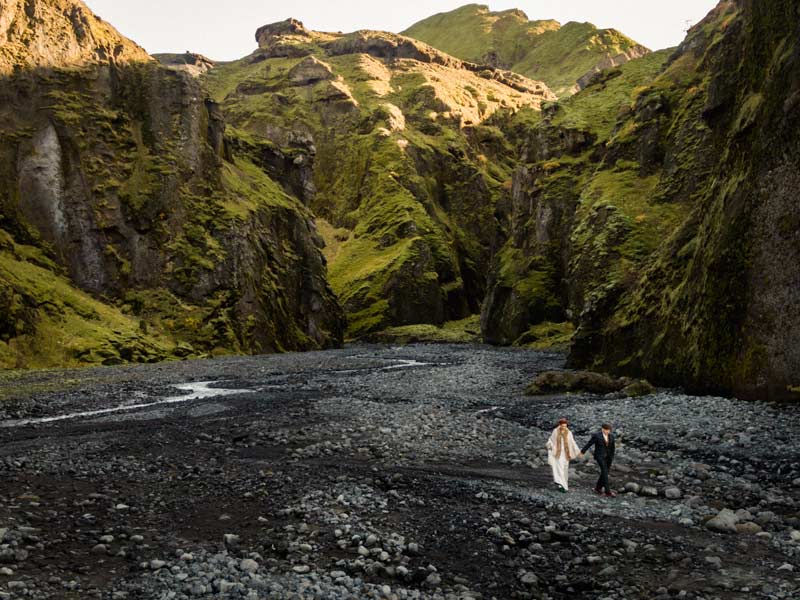 We asked Kristen and Christopher some questions to get a better idea of how they enjoyed their wedding and trip to Iceland.
Why would you recommend Iceland as a destination for weddings?
Iceland is quite simply one of the most beautiful places in the world. Couple that with the people – the locals are welcoming, warm, and generous – and you have the perfect surroundings for a wedding that doesn't feel like a tourist trap. It feels like a home away from home. We also enjoyed lots of opportunities to get off the beaten path and do non-traditional things that were right for the type of wedding we wanted to have.
What was the best thing about your trip to Iceland?
The best thing about our wedding without a doubt the way that we felt on the trip. Everywhere we went, we felt welcome, we met people who wanted to share their culture and history and in our joyful celebration.
Do you have a favorite place that you visited?
Þórsmörk! The perfect place for our wedding. Vigdis found an escarpment that overlooked the river and the glacier and the weather could not have been more perfect. Private and intimate while still being outdoors surrounded by the breathtaking beauty that is Iceland.
Was getting married in Iceland somehow different from what you expected?
Not different, but certainly reinforced what we already knew and loved about Iceland. We also felt pleasantly surprised by all the things that came together on our day (weather included!)
"surrounded by the breathtaking beauty"
Do you have any planning tips for those who would like to get married in Iceland?
Start early, get a wedding planner, decide what is important to you, and be willing to spend the money on those things. Let go of the stress around the details and trust your wedding planner.
Why would you say having a planner is important?
You don't know what you don't know! Wedding planning is stressful and Vigdis and her team took care of so much that we could not have foreseen or anticipated for ourselves. She really understood our vision and the experience we were looking for and I do not think we would have had that if not for Vigdis expertise.
What would you say is a must-do in Iceland?
Explore the outdoors, dress appropriately and get out there! Iceland is a lot more than Reykjavik. If you are willing to venture off the beaten path and away from the crowds, you will be rewarded! We explored so many amazing places!
Plan your Þórsmörk wedding in Iceland with our help!
Please
contact
us for more information on weddings in Iceland.
We look forward to hearing from you!
LET´S PLAN YOUR WEDDING TOGETHER!