Waterfall elopement Iceland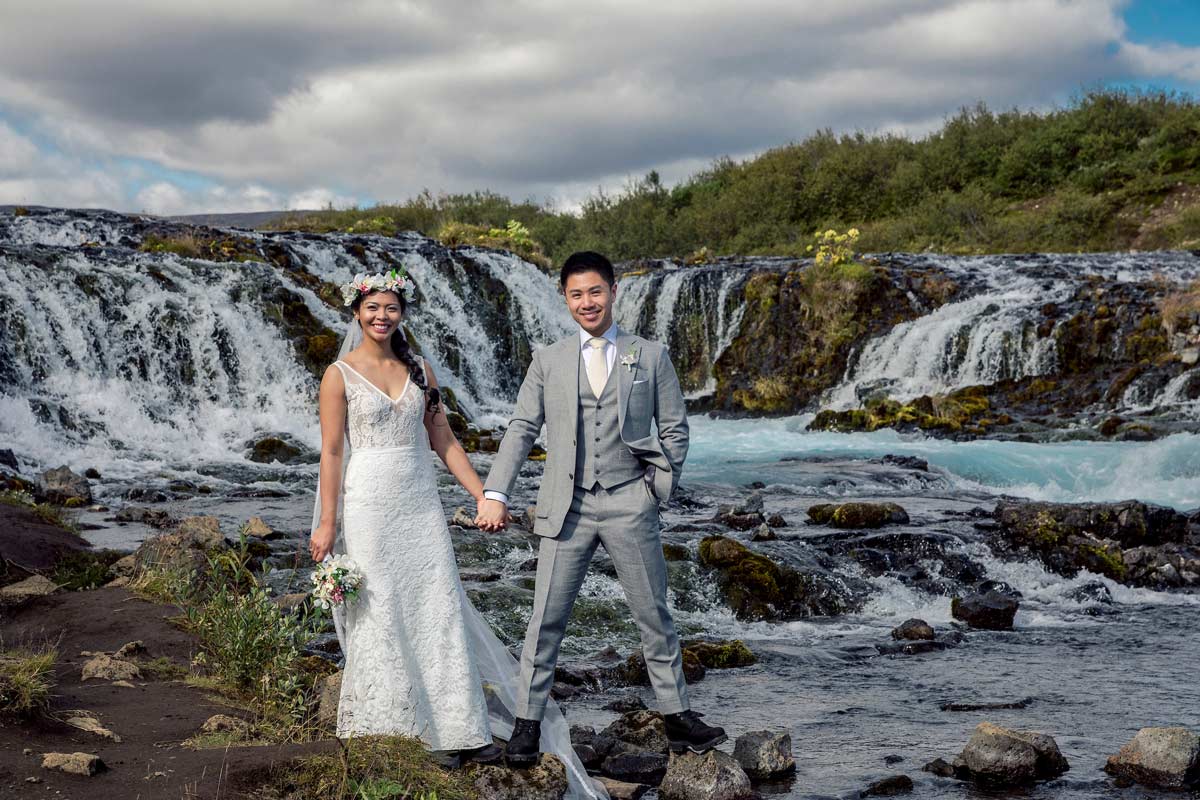 Waterfall elopement Iceland
Adam and Valerie traveled all the way from Australia for their elopement in Iceland.
Waterfall elopement in Iceland by the waterfall Brúárfoss. On a particularly beautiful day. Adam and Valerie had some awesome photos taken by the waterfalls Seljalandsfoss and Gljúfrabúi. We had a great day together and they told us a little bit about how it was to get married and travel in Iceland.
We asked them a few questions about their wedding and stay in Iceland.
Why would you recommend Iceland as a destination for weddings?
For us personally coming from Australia. We wanted to travel to Europe and get married in an exotic, close to natural environment setting. Iceland is highlighted as a beautiful country. Having glaciers, countless waterfalls, and not to mention unique volcanic landscapes. Apart from that, it was also a destination that is the furthest from home.
What was the best thing about your trip to Iceland?
We especially enjoyed renting a car and traveling around the countryside. It gave us the opportunity to view many sides of Iceland. From the populated city center, right through to the isolated highways and beautiful natural scenery.
Do you have a favorite place that you visited?
It is far too difficult to put the finger on a single location. We definitely enjoyed traveling the south and southeast coast of Iceland the most. The views are absolutely spectacular.
"The day proved to be a great success".
Was getting married in Iceland somehow different from what you expected?
Not at all. Firstly we did not set very high expectations for our wedding. Secondly having witnessed friends and family set really high expectations for their weddings (at home) only to be let down and disappointed.
Also, we wanted to treat our holiday and wedding in Iceland as a place/time where we can have the most fun.
Obviously, we have seen photos online of other couples with amazing backdrops. Besides in a destination like Iceland, it's hard to take a bad photo.
Do you have any planning tips for those who would like to get married in Iceland?
Yes indeed, go through Vigdís. Give her some assistance and guidance on what you like and don't like. She basically organized everything. Indeed the day proved to be a great success.
Why would you say having a planner is important?
Definitely a planner lives in the country you are wishing to get married in. You as a foreigner won't know the hidden gems and secrets. A planner with experience. Has already organized many weddings prior to yours! Undoubtedly learned some lessons on the way. Leave your wedding planning to professionals. If you wish to get the most out of your special day; you might even get special access to a waterfall!
What would you say is a must-do in Iceland?
Renting a car and driving it around the country. You won't see all of it, but there's no better way of seeing what Iceland has to offer.
Are you interested in a waterfall elopement in Iceland?
Please
contact us
for more information on weddings in Iceland.
We look forward to hearing from you!